A dash to marathon country
A side trip in search of Kenyan runners' long-distance secrets
Third in a series

By Andrew Maykuth

INQUIRER STAFF WRITER

ELDORET, Kenya - "Welcome to Eldoret," says the sign greeting travelers who enter this town on the Trans-Africa Highway. "Home of Running."

Eldoret is more like the World Capital of Running. This high-plains farming region on the western side of the Great Rift Valley has produced more championship long-distance runners than the Greeks produced at Marathon.

Just last week, a Kenyan man won the Rotterdam Marathon; a Kenyan woman won the London Marathon; and a Kenyan man and a Kenyan woman swept the Boston Marathon. All of them are from this region near Eldoret.

In Boston, Kenyan men took seven of the top 10 positions. Four of the top 10 - including winner Elijah Lagat and third-place finisher Moses Tanui - train at the same camp in Kaptagat, a village about 13 miles from here.

To find out why Kenyans are such successful runners, we took a side trip yesterday from our truck carrying food aid to southern Sudan to visit the Great Rift Valley Sports Camp in Kaptagat, where 24 male runners train for a team sponsored by the sporting-goods manufacturer Fila.

"The reason we have so many winners is because of my training methods," said a coy David Letting, a 40-year-old former 10,000-meter runner who is the coach at the Kaptagat camp. "But my methods are a secret."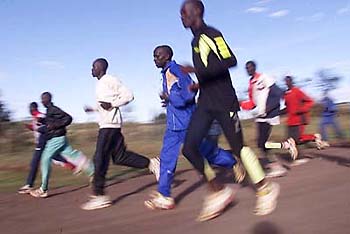 ---
Members of a team sponsored by Fila train at Great Rift Valley Sports Camp in Kaptagat, where four of the top 10 Boston Marathon finishers train.

View more photos from Day 3

Pressed to share a few of his techniques, Letting did allow that part of his training regimen is to keep the runners from getting bored by leading them on different courses each day on the soft dirt roads that wind between the forests of pine and eucalyptus and small farms of tea and corn.

"Our camp is also far from town here, so there are not a lot of distractions," he said. "It's kind of like a military barracks." In fact, many of Kenya's top runners are soldiers. They draw government salaries and are allowed to train at running full time.

There are any number of theories on why long-distance runners in this region are so good. Children learn to run at a young age to get to distant schools. Many people are poor, and athletics is seen as a way to prestige and a comfortable income. It may also have something to do with the genes of the Kalenjin people, a tribe of lean, lanky people who settled in this area.

A lot has to do with altitude. The Kaptagat camp stands near the edge of the Rift Valley escarpment at nearly 8,000 feet above sea level. The air is so thin that coastal people wheeze and the local farmers wear sweaters, even though the region straddles the equator. But yesterday, a platoon of young athletes ran 18 miles in what most of them regarded as a light warm-up.

The camp is owned by Tanui and paid for by Fila. An article in a local running magazine recently referred to the compound of brick buildings as "ultra modern," but the description was generous. Two athletes share a dorm room, equipped with foam mattresses on simple slat beds. The rooms have toilet basins and shower facilities, but no running water, so the 24 runners share a single pit latrine. The camp has no gym equipment. It has no electricity.

Chickens and sheep move through the compound, grazing the grass for food.

Tanui, a two-time winner of the Boston Marathon, shares his room with Lagat, who narrowly beat Tanui and an Ethiopian in the closest-ever finish in Boston last week. Tanui's teammates said he gets an appearance fee of $50,000 to run in the Boston race, although you couldn't tell from his room, which was as spartan as all the others.

Kenyans are proud of the achievements of their runners, but one shortcoming nags on the national consciousness: No Kenyan has won an Olympic gold medal in the marathon.

After last week's successes, two Kenyan newspapers began sounding the drum to persuade the Kenyan Amateur Athletic Association to name top-rank runners to represent Kenya at the Sydney Olympics in September.

Part of the problem is that the government does not sufficiently reward athletes to sacrifice a lucrative marathon to compete for national Olympic glory.

"The government does not recognize or reward these athletes whose achievements give the country better media exposure than any number of expensive supplements the government could sponsor," said the Nation.

The runners also can be a little mercenary about their success.

"It is unfortunate that in the past runners selected for the marathon at major meetings have ended up skipping them - in some cases feigning injury," lamented the East African Standard newspaper.

Letting said he encourages the runners to participate in the Olympics, but few of them expressed a great desire to win gold.

"It doesn't make much sense to win a medal for your country and still be poor," said Ben Koech, 25, who finished ninth in last year's Rome Marathon. "The government is not interested in us as athletes. They're only interested in medals."

After a marathon of his own - Sunday's 14-hour drive to get home to his family in Rongai - truck driver Francis Kuria got to drive at a little more leisurely pace yesterday.

On his visit home Sunday night, Kuria discovered that his 10-year-old son had been hospitalized with malaria and typhoid during the month Kuria had been on the road. The child is now recovering.

The Trans-Africa Highway left Rongai and the Great Rift Valley and crossed the equator. The momentous location is marked by an anticlimactic sign provided by a film company and two lonely curio salesmen imploring drivers to stop. Few do.

As the road neared Eldoret, it improved dramatically in quality. It is widely accepted in Kenya that the roads near Eldoret get special treatment because President Daniel Arap Moi is a Kalenjin who knows how to treat his home constituency well.

Much of Kenya is showing signs of drought - the savanna and farmlands are a uniform shade of brown at a time of year when they should be erupting in green. As the truck descended, farmland became increasingly rich and the countryside became more populated. Roadsides filled with pedestrians and bicyclists who hauled all manner of cargo - metal roof sheeting, milk cans, bunches of bananas.

Before nightfall, Kuria stopped his rig containing 35 tons of U.S. sorghum relief grain along the road in Bungoma, a farming city without much charm. Kuria plans to cross the border into Uganda today.