In the weeks after the terrorist attacks in the United States, I was assigned to travel to Afghanistan to follow the Northern Alliance forces and America's response against al-Qaeda terrorists. The reports provided a vivid portrait of the anti-Taliban forces and the colorful country where American troops would soon become engaged. I returned to Afghanistan for five weeks in 2003 to examine the recovery from the war and reconstruction efforts.
November 1, 2001
Fresh troops reportedly flock to Taliban
Reinforcements are streaming into Afghanistan from Pakistan, say refugees who recently fled Kabul.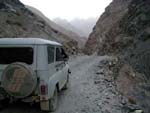 October 18, 2001
Bullets and bedbugs
To get near Kabul, journalists must endure a treacherous mountain road and billowing dust that invades everything. It's no resort at journey's end.
E-mail from Afghanistan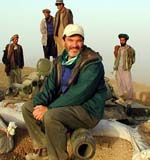 October 2001
Readers react to `E-mail from Afghanistan'
December 2001
Pennsylvania Newspaper Association
Maykuth stayed tied to Philadelphia readers from Afghanistan
December 5, 2001
On the Front Lines
A Q&A with Philadelphia Weekly
October 15, 2001
Los Angeles Times
A New Crop of War Reporters
Correspondents face disease, rock-throwing crowds and other dangers.